The 2014 Grasshopper Adventure Series Old Caz ride was awesome as expected. On Friday evening, Green Fro, Orphan and I met at my work to load up bikes for the trip to Petaluma where we stayed the night at Green Fro's uncles. After a good meal and a few brews, we hit the sack. In the morning we prepared the Old Caz traditional ride food of bacon, peanut butter and honey on toasted english muffins. We then rolled out to Occidental for the start. As we milled around putting on wheels, changing brake pads (Green Fro) and checking tires, I realized that none of us had brought a floor pump. I went to the car next to us and asked the guy sitting in the hatch of a sweet Audi, "Do you have a floor pump I can borrow... ...Geoff Kabush?" And yes it was none other than the legend himself, three time Olympian MTB racer (Finished 7th in London), 8x Canadian National MTB champion, top CX racer and all around bad ass. I had Green Fro grab a pic with him and I and we went on with our prepping.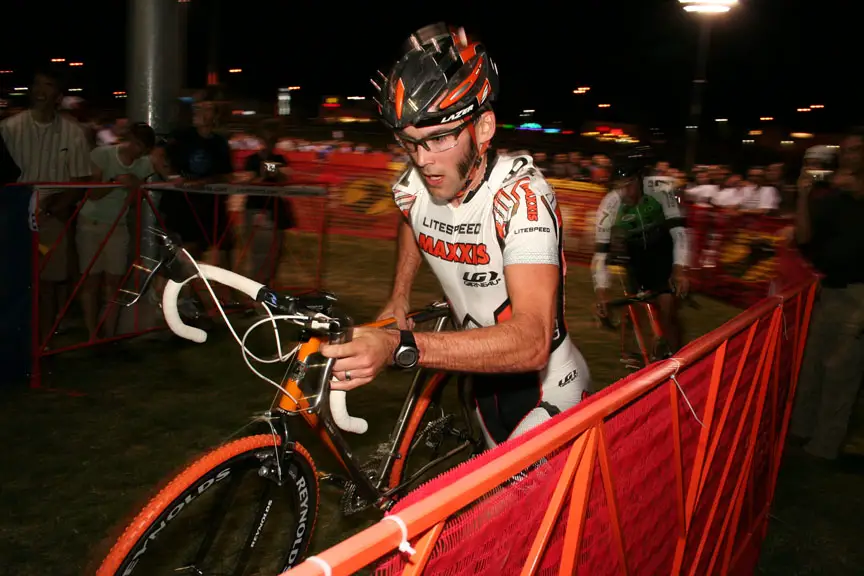 The start line was incredibly long and tight, Green Fro and I lost Orphan right away, and didn't see him again until much later in the day. He said "I am going to wait until everybody starts, then tie my shoes, then start riding". Green Fro and I managed to sneak our way into the long and tight line of 400 riders about 1/3 from the front or just in front of the half way point. And then it started - a rolling mass of hundreds of bikes heading up hill. We received a nice message from one of the locals on the sideline, "pedal on bitches" she said.
It's at about this point that you realize most of the people who participate in this event consider it a race, for me it's hard not to get caught up in it. I soon lost sight of Green Fro, in spite of looking back for him several times, the forces of nature and competitive spirit were too strong. I rolled on and soon found myself ripping down the first big dirt decent. However, it wasn't long before this ten year old came ripping by me on his 4,000+ dollar Specialized Crux disc that was a tad too big for him. Scrappy, that kid was. At the bottom I found myself in a large group that was going along pretty well. Once we hit the next climb that group blew apart, and I ping ponged between riders, passed the 10 year old back, and for some time we rode a combination of dirt and road until the second long dirt decent. This decent is super fun and drops to a creek crossing. After the creek crossing it was time to eat the delicious bacon sandwich. We climbed a bit more on dirt, then a small group of 7-10 riders formed as we hit the pavement on Old Cazadero road. A tandem came flying by, I tried to jump on their wheels, spent way to much energy, eventually gave up the chase and had a gel while waiting for my original group to re-catch me. We rolled together in a nice pace line, taking turns pulling, until a small rise where the group blew apart leaving me and three others off the front. We worked together until the bottom of the climb where I had to let my new friends go. It was time for me to settle in or bonk and walk. I suffered immensely up the final long dirt climb. Just before the top, the ten year old passed me. I had some pretty funny self talk about whether or not I was going to let that happen. Indeed, it happened, I gave a bit of a chase, there was one other guy between the ten year old and I.
I was the 129th finisher, in 3:27 (51 miles to the finish line, 5,906 feet of climbing). Interestingly, when I did it in 2012, my time was 3:30 and I was the 50th finisher. Levi Leipheimer finished first in 2:44, Geoff Kabush was a couple minutes behind him. Ironically, Levi was on a cross bike and Kabush was on a Road bike. Green Fro struggled a bit with cramping, but enjoyed a nice pull from a group of ladies on the last road stretch before the climb. He had to let his lady friends go at the bottom of the climb. Fro arrived and he and I rolled back to the car, changed our clothes and wondered how our orphan friend was doing (note the car Geoff Kabush was driving was assumed to be half way to Canada by the time we arrived). We had no sooner changed and cracked open a beer when Orphan rolled up excitedly on his full suspension Santa Cruz 26er. He was pumped! His longest ride ever!! And that my friends is another Old Caz in the books. Next year let's have a better showing!!!
My attendance tonight is highly unlikely, my son has strep. Happy SSFT3, it's going to be a cold one!
0